City Centre -sleeps 15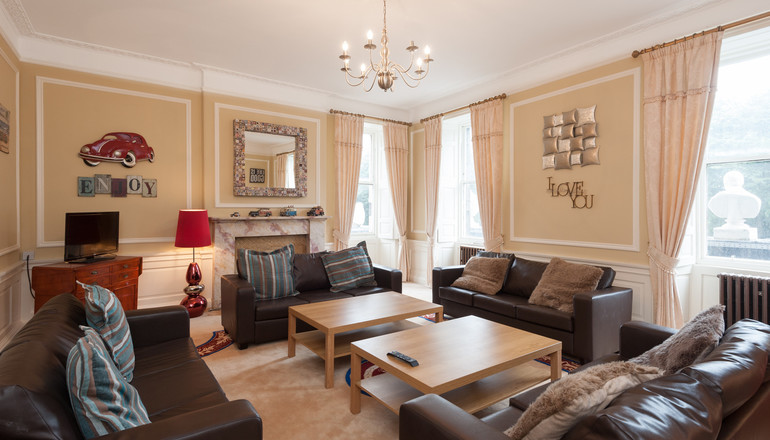 See more photos
Description
City centre of Edinburgh. The apartment is fully equipped with everything you should need for a relaxing and fun break and is situated in Frederick Street, just a few minutes walk to Princes Street, George Street with all its nice designer shops, trendy restaurants and nightlife.

Princes Street is the main High Street shopping area where you can take full view of Edinburgh Castle and the gardens. It boasts the biggest variety of shops and cafes off and off this street. The Royal Mile, Scottish Parliament, Palace of Holyrood House, Dynamic Earth, St Giles Cathedral, Camera Obscura, Scotch Whisky Centre, Famous Ghost Tours, Highland Tours, Edinburgh Bus Tours and National Museum of Scotland are all within your reach.
The apartment is suitable for groups of friends or families or business colleagues who want a home from home whilst working in the city.

The apartment has a fully equipped modern Lounge with many fine modern and traditional features.. . The apartment is immaculately clean, warm and extremely comfortable. Linen and towels are provided.
This very large 3 bedroom apartment is accessed via the main door on Frederick Street. Once inside you will see how spacious and fun this apartment is with its themed rooms such as the 50 shades of Grey room, The New York Room and the Beach Room. The lounge has been created with enough seating so that all 15 guests can sit round and chat together over a nice glass of bubbly. The ambience is a definite talking point.

Security deposit of £300 due 7 days prior to arrival
Sleeping arrangements Bedroom 1 - 1 double bed and 5 single beds (7)
Bedroom 2 - 5 single beds (5)
Bedroom 3 - 1 single beds and 1 double bed (3)
Interior layout Main door apartment
Grand entrance
large lounge
dining room
kitchen
3 bedrooms
1 jacuzzi spa bathroom
1 en-suite shower room
Exterior Stone built Georgian Main Door Flat
Great for
Business , Budget , City , Family , Groups
Location
Parking
no parking at property. Metered parking close by. Free at weekends and evenings. Please see parking meters for restrictions.
Book now
Instant and secure
25% deposit non refundable
Full balance due 60 days before to arrival
Special offers
Various offers throughout the year
| | |
| --- | --- |
| Sleeps | 15 |
| Bedrooms | 3 |
| Rooms with Ensuite | 1 |
| Bathrooms | 1 |
| Pets not allowed | Yes |
| Catering | self catered |
| Check-in starts | 15:00 |
| Check out time | 11:00 |
Facilities
At the property
Dishwasher
Fridge
Oven
Microwave
Linen provided
Bath towels provided
Bedding provided
Hair dryer
Iron / Ironing board
Washing machine
TV
Wifi
24h check-in available
Pets not allowed
Nearby
Shops
Supermarket
Express supermarket
Bar / Pub
Restaurants
Café
Nightclub
Galleries
Museum
Theatre
Internet café
Reviews
What an amazing appartment. I loved the location, just right next to the shops, resturants, trendy cafes and bars. George Street is a 2 minute walk for all the top night spots. Although it was city centre there was no noise. Evelyn was lovely and helpful, the appartment was easy found and easy to get into, Evelyns directions were easy to follow. Well equipped. Will definately use again
Property manager response (06 Dec 2014)
Thank you Alex for the feedback. Very helpful for new guests' finding the best there is in Edinburgh for large groups. I am glad you enjoyed yourselves. Elaine and I were delighted to invite you all to Edinburgh and really look forward to hearing from you again. Thanks also for being respectful . The apartment was left immaculately. Much appreciated. Evelyn and Elaine Edbook apartments
10 of us stayed for the weekend. Very spacious and clean apartment . Great value for money, better than staying in a hotel and so central, only 5 min walk to Princess Street with bars and restaurants on the doorstep. Would definitely recommend it and will most certainly be going back.
Property manager response (05 Dec 2014)
Thank you so much Kylie for taking the time to write this review. Glad you enjoyed your stay. Delighted you want to come back to us. Looking forward to welcoming you and your guests' here. Much appreciated Evelyn and Elaine Edbook apartments
Thank you so much for a very comfortable stay in this amazing apartment! My friends helped celebrate my 30th birthday here in Edinburgh and we had a ball.

The apartment was spacious and fun with a touch of class. It was perfect. Thanks Evelyn for all your help and recommendations, fab weekend!

I would definitely recommend and already planning our next weekend!
Property manager response (31 Oct 2014)
You are so very welcome Vicky. I hope you and your friends will come back to visit us again. Thanks for the feedback it is always helpful for guests choosing the correct place to stay. Kind Regards Evelyn
Nice apartment, plenty big enough even though we were a large group. Less than 10min walk to Princes St.
Evelyn was very helpful in the build up and even rung to recommend a couple of Fringe shows when we were there.
Property manager response (26 Aug 2013)
Thank you for your review. So glad you enjoyed your stay and the convenience of the location. Hope you enjoyed the shows! Hope you will come back to visit us again. Best wishes Evelyn xx 07960 341431
Thanks for a lovely stay in this large comfortable apartment.
There was 10 of us all working at the conference centre. We couldnt have been in a better location. Everything we needed to do was on our doorstep. There is a vast range of pubs restaurants and bistros in the area so no need to travel too far. Princess street is 10 minutes away. As for parking because it is right in the city centre there is no free parking through the day until 6pm until 8am
However we found an NCP right beside the conference centre £12.50 for 24 hours. The apartment itself is so lovely and the service received from Elaine and Evelyn was second to none. Evelyn helped us with finding a nice restaurant and even called the owner of the restauranrt to grab a discount. Well done and thanks again.. We are coming back next year for sure. Irene Carse from Newcastle
Property manager response (01 Jul 2013)
THIS REVIEW WAS EMAILED IN TO EVELYN JAMIESON, EDBOOK APARTMENTS AS THE GUEST COULD NOT GET THE SYSTEM TO ACCEPT THE REVIEW.
This is a fantastic apartment. Really convenient location, loads of space and perfect for large groups. I was here recently with a group of 10 and we really enjoyed the stay. The booking was really efficiently managed as well. Would definitely go back!
We stayed here for my stag party and everyone was really impressed.

It is the perfect apartment for a large group of people, especially the large sitting/dining room.

It's only a few minutes from Haymarket station with plenty of shops, restaurants and bars near by and it's only a short walk along to Princes Street.

Would definitely recommend to others and would be very happy to stay again.
Property manager response (03 Apr 2013)
Thanks very much for the feedback guys. Looking forward to welcoming you back to West Maitland Street. I agree it is an excelllent apartment for large groups. All the best Evelyn www.edbook.co.uk